Consultancy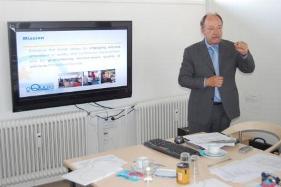 As an expert on the issue of quality in social services, EQUASS can provide a broad range of tailored information services to inform service-providers, local license holders and European public authorities about the EQUASS approach on quality, the requirements for EQUASS certification and the auditing and certification process EQUASS can contribute to information sessions, seminars and conferences and participating in various national and international events.
Consultancy services
The European Platform for Rehabilitation has specific and exclusive knowledge and expertise implementing the EQUASS requirements for certification in organizations of social service providers.
EPR therefore can provide consultancy services including:
Advice and support
Offering support and advice to EQUASS Local Licence Holders and public authorities throughout Europe.
Internal review
Carrying out a review on the EQUASS Excellence self-evaluation report and providing feedback to EQUASS Excellence applicants with the aim of writing an assessable self-evaluation report.
Test audits
Carrying out a test audit on the performance of the social service provider on the EQUASS Assurance criteria and indicators and providing feedback to EQUASS Assurance applicants with the aim of submitting an eligible EQUASS Assurance application.
Self-assessment
Facilitating a self-assessment process for social service providers on their current performance against the criteria for EQUASS Assurance and EQUASS Excellence certification and providing feedback on performance with clear recommendations for improvement and additional development so a tailor-made implementation plan can be composed.
If you could not find the information you were looking for, please download the

information request form, fill it in and send it back to equass@equass.be. We will assist you in finding the right service and support for you.